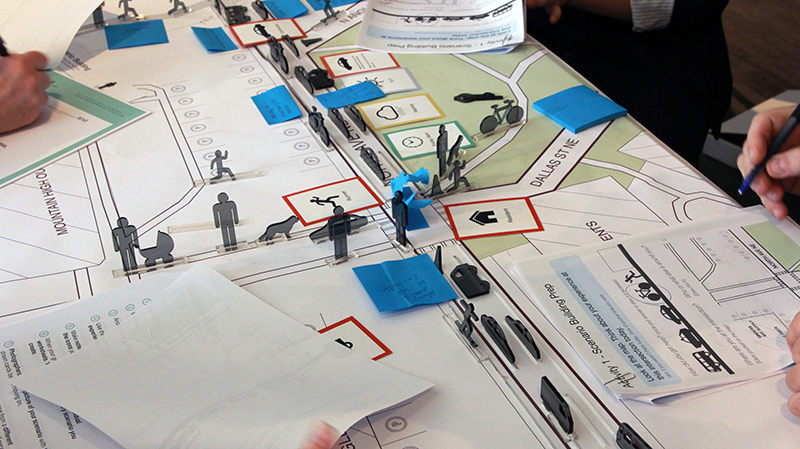 PARSE (Participatory Approaches to Researching Sensing Environments) is a multi-year project that combines design, the humanities, and social science methods to investigate the technologies and services of "Smart Cities." By working together with communities, municipal government, and industry, the goal of this research is to collaboratively explore the issues and possibilities of distributed sensing in urban settings. Specifically, through co-design workshops and prototyping PARSE looks to identify and articulate the factors that shape and affect smart cities as socio-cultural systems, with implications for contemporary civics, sustainability, and diverse economies. The outcome of this research includes comparative case studies, frameworks for analysis and assessment, and use cases to inform engineering, policy, and strategy.
PARSE is supported by the National Science Foundation, Intel, and The Digital Integrative Liberal Arts Center at the Georgia Institute of Technology. In year 1 of the project (2016-2017) students and faculty worked together to design a toolkit and a workshop to support co-design and collaborative inquiry with communities. We conducted three workshops over the course of the year, engaging over 100 Atlanta residents. From these workshops we developed a set of scenarios describing smart city services from resident's perspectives. These scenarios were published digitally as "Fictions for a Smart Atlanta" and this collection of scenarios has been distributed among city employees and is the basis for ongoing work. More than just another design project, the scenarios were developed to reflect humanistic perspectives, informed by recent discussion of feminist technoscience, diverse community economies, and issues and practice of care and repair.
The lead designer for year 1 was Trinh Nguyen. In the year 2 of the project (2017-2018) we are pursing further research and design based upon one of the scenarios in the "Fictions for a Smart Atlanta" collection. This is at the request of partners in the office of SmartATL in the City of Atlanta government. Through this work we will continue our processes of humanities informed participatory design and inquiry. The outcomes for year 2 will include a new workshop format, interviews with community advocates and city employees, multiple community engagement sessions, and an interactive prototype of a service aimed at addressing extreme weather events in Atlanta through community-based smart services.
In addition to public engagement and actionable research and design for the City of Atlanta, the PARSE projects are also an opportunity to directly explore and address pressing issues in the contemporary humanities. In particular the PARSE project explore materialist approaches to technology and politics, as well as engaging with emerging themes in infrastructure.
Project image from MIT's Internet of Things Course Announcement
Contact Email
cdisalvo@gatech.edu